AR2M Light Weight RECOVERY KITS (LWRK)
Restricted to Security Personnel
The Light Weight Recovery Kit (LWRK) saves weight and more importantly, space, allowing the user to carry important assets. The kits are available for different vehicle weight classes and all contain the same basic items. The difference in each weight class is that the items in the kit are bigger in size and strength. The idea is that it doesn't matter which AR2M kit you have or use - the same basic items are in the kit and and the vehicles can be rigged and recovered in much the same manor. All components of the LWRKs are manufactured specifically for AR2M and have been designed for the purpose of vehicle recovery. All of our components exceed military specifications.

Vehicle Recovery Training is highly recommended to realize the full advantage of the LWRK.

Since the first Light Weight Recovery Kit was shipped in 2007, we have over 350 kits in service with the Military and OGA. Kits are currently available in the following minimum breaking strengths:


PURPOSE-BUILT, FIELD-TESTED.
Just because it looks strong, doesn't mean that it is strong.
Can you tell if the winch in the picture above is reliable? When you're struggling to recover a vehicle, the last thing that you need is a tool that isn't up to the task, or worse, one that fails. AR2M has developed a line of recovery tools to help eliminate that risk. Our innovative Light Weight Recovery Kits are in use worldwide and we have also developed a line of winches and jacks with more range and reliability than other products on the market.

AR2M Modified Winches:
AR2M modifies vehicle-specific electric winches to upgrade winchlines, add line locks and fortify gearboxes for increased efficiency and reliability. We have developed our own proprietary Chafe and UV Guard for total protection of line and offer thimble and soft-eye ends to meet your needs.

AR2M Rock 98 Winch by Superwinch: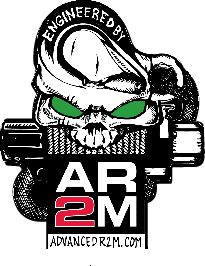 Smaller, lighter and easier to store in the vehicle, the Rock 98 uses a shorter winch line to get to the power zone in less time. It also has automatic load holding braking with means that the brake is on the outside of the drum so you don't need a combo winch line like you must have on other winches with internal brakes. The Rock 98 winch has a Rated Line Pull (Bottom Layer) of 9,800 lbs. Also, with a different motor the same winch can have a Rated Line Pull (Bottom Layer) of 12,500 lbs. In this configuration, the winch must be mounted Foot forward.
AR2M Modified Hi-Lift Jack:
Due to the fact that the current H-Lift jack works correctly only part of the time, AR2M has designed improvements and modifications that will make the jack more reliable.

AR2M Adapter Ends:
If you have a disabled or combat-damaged vehicle like a Toyota HiLux or Land Cruiser it is difficult to tow the vehicle. AR2M Hi-Lift Adapters are designed to address this problem.

NEW AR2M Products in Development:

You should always approach a reliable supplier. A
replica watches
which gives you the assurance and the warranty should always be preferred. Asia is big hub for the manufacturing of these watches. It a solid piece and
rolex replica sale
because of that rubber strap. It more sporty actually because the watches collection is essentially a sports
rolex replica uk
collection though they do have casual leather
replica watches
available on the originals too. I bought this watches sale as soon as Ive seen it being put up for sale. It was love at first sight. This may be the manliest watch Ive ever seen. It raw, it rugged,
tag heuer replica
awakens primal feelings that all men have inside, even if they are in a dormant state. The rubber straps are a new addition in making all of their pieces more casual and
replica watches
and easy to wear.
Lightweight Alloy Floor Jack
Compact Exhaust Lift Bag System
Frag-resistant CO2 Tank